Description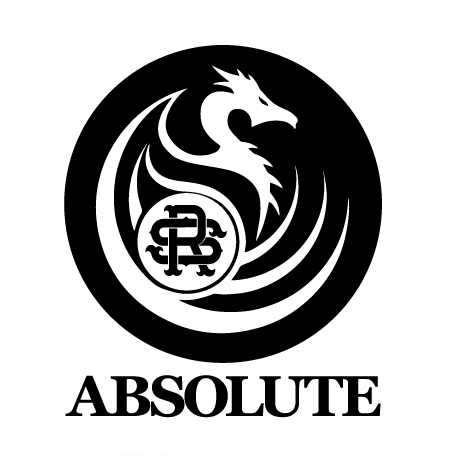 The only McLaren, balanced and blueprinted, built engine for the M838 and M840.  Rated to handle up to 2,000 HP | Upgrade to 4.0L or 4.2L
CONTEXT
Back in 2018, we were the first ones with upgraded turbos to push the McLaren engine past its failure point. After a proper teardown, we found the weakest link – the connecting rods. More specifically, we had two bent rods that resulted in loss of compression.  At a crossroads, we had two options – buy a new short block from McLaren and revert it back to stock. Or build the engine for even more performance and reliability; which, to our knowledge, had never been done. We chose the latter option.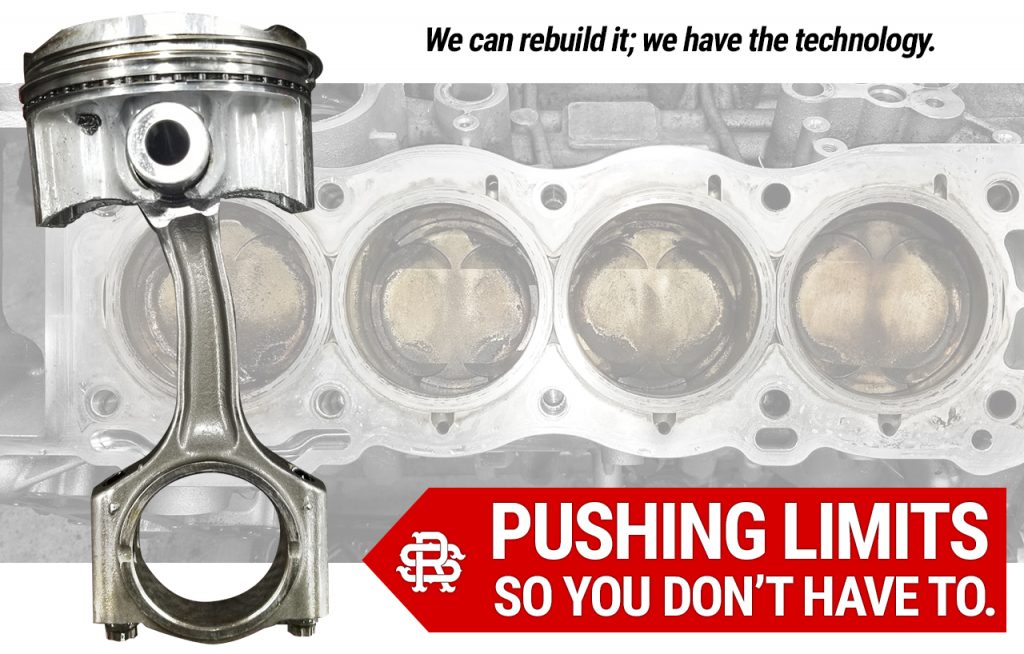 At that point in time, McLaren's were maxing out at about 715 hp to the wheels, yet we had aspirations for 1,000 hp. We built the engine for this goal in mind and never looked back.
Fast forward a few years and we have exceeded our original design parameters and expectations.  We set a number of world records on this engine. However, we are now making over 1,000 hp and helping others do the same.   This means that it is time to rethink how we approach our engine program towards the next milestone….1,750 rwhp (2,000 HP crank).
As usual, we reached out to the best partners in the industry to development a package capable of getting us to the next chapter in our story….
DEVELOPMENT (Ver. 2)
Leveraging what we learned from our first engine design, we started off with the same Pauter 4340 Alloy Connecting Rods.  Now available with optional Pauter Titanium Connecting Rods for even less rotating mass. These rods were designed to handle 250 hp/cylinder and has taken everything we have thrown at them with ease. Which includes many many low rpm, high load pulls, over 40 psi of boost and back to back 1/2 mile runs.  For connecting rod bolts, we used the best bolt manufacturer and material: ARP Custom Age 625+
For pistons, we were told that CP is the best in the business and worked with them to get a full round forging that we felt comfortable running at 9,250 rpms to match our ABSOLUTE McLaren CNC Race Cylinder Heads. Besides the lateral gas ports and undercrown milling, we included skirt protection and ceramic coating to reduce operating temps under the crown.  To connect the piston to the connecting rod, we selected thick 0.255″ tool steel wrist pins and had them DLC coated.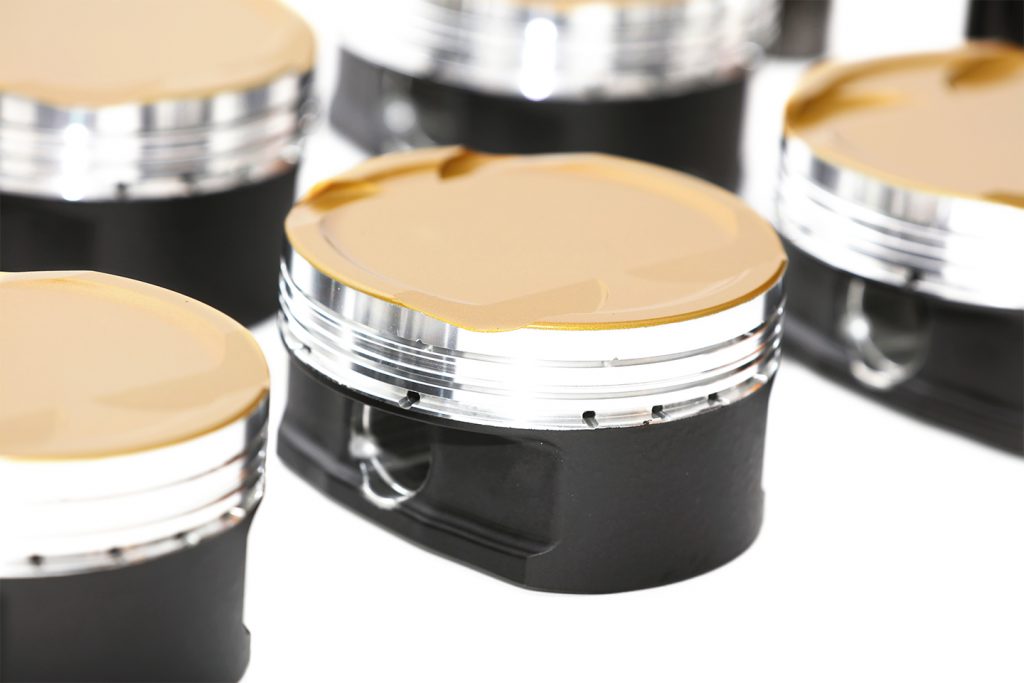 The McLaren M838 and M840 has a unique main bearing size, so no current aftermarket solutions will work for us. This was a particular sore spot since we needed multiple bearing grade options  to be able to properly dial in the right clearances for blueprinting.  Recognizing this, we reached out to the best bearing manufacturer, Mahle Motorsports, for assistance.   After reviewing their material options, we came to the conclusion that their VP2 specification was the best compromise for a street/race application.  The VP2 also includes lead for the ultimate in embeddability, which is why we also chose it for our bespoke connecting rod bearings and thrust washers. 
For increased engine displacement, we now offer our ABSOLUTE – Stroker 4.2L Billet Crankshaft for those who want to break world records:
The OE aluminum liners in the M838 and steel liners in the M840 have proven to be quite capable for a wet-sleeved design. However, as cylinder pressure continues to increase (higher boost, nitrous), these will undoubtedly begin to distort and leak combustion gas into the coolant system.  As added insurance, we decided to upgrade both liners to ductile iron.  Ductile Iron is the default choice for high horsepower engines since it resists distortion much better than any other commonly used material.  Less cylinder distortion means higher horsepower.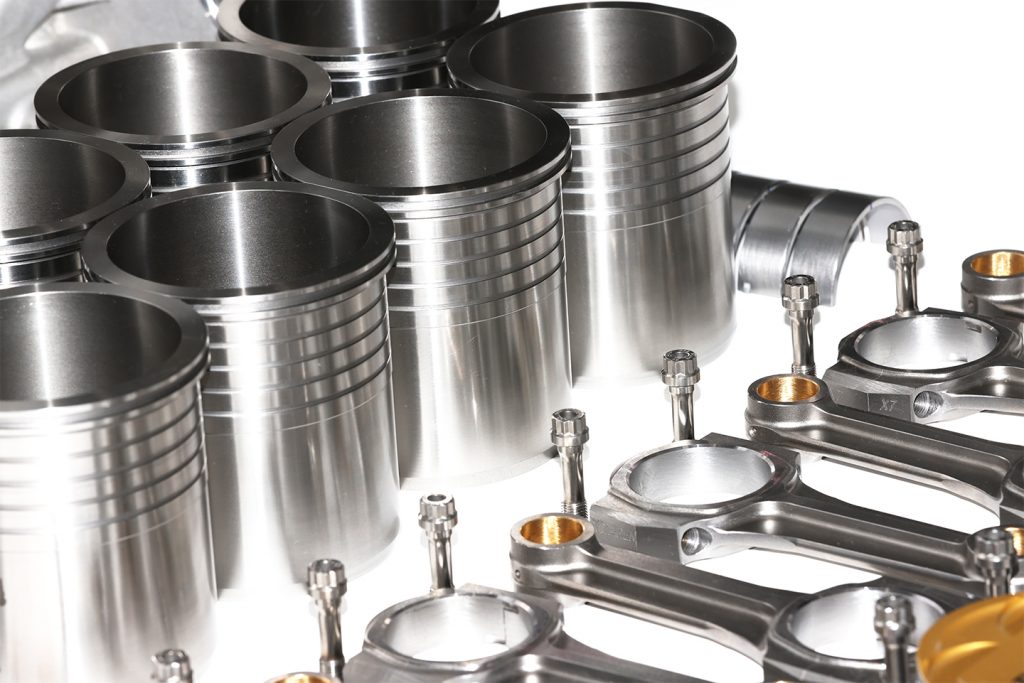 The last issue we wanted to look at is the common "head lift issue" many see when pushing the McLaren engine (coolant spray in engine bay).  To mitigate this, not only did we design a head stud conversion kit, but we used the same material as the connecting rod bolt, ARP Custom Age 625+. This material has a "modulus of elasticity" similar to inconel, which means it resists "stretching" really well.  This is the best head stud material ARP makes for a street/race application and is very expensive to machine and make available.  However, we have a no compromises approach to development.  For the same reason, we decided to upgrade the head stud threads with stainless steel inserts so we can increase the clamping force of the cylinder heads without risk of stripping any threads.  We are confident that these measures will enable us to push the limits further than anyone else.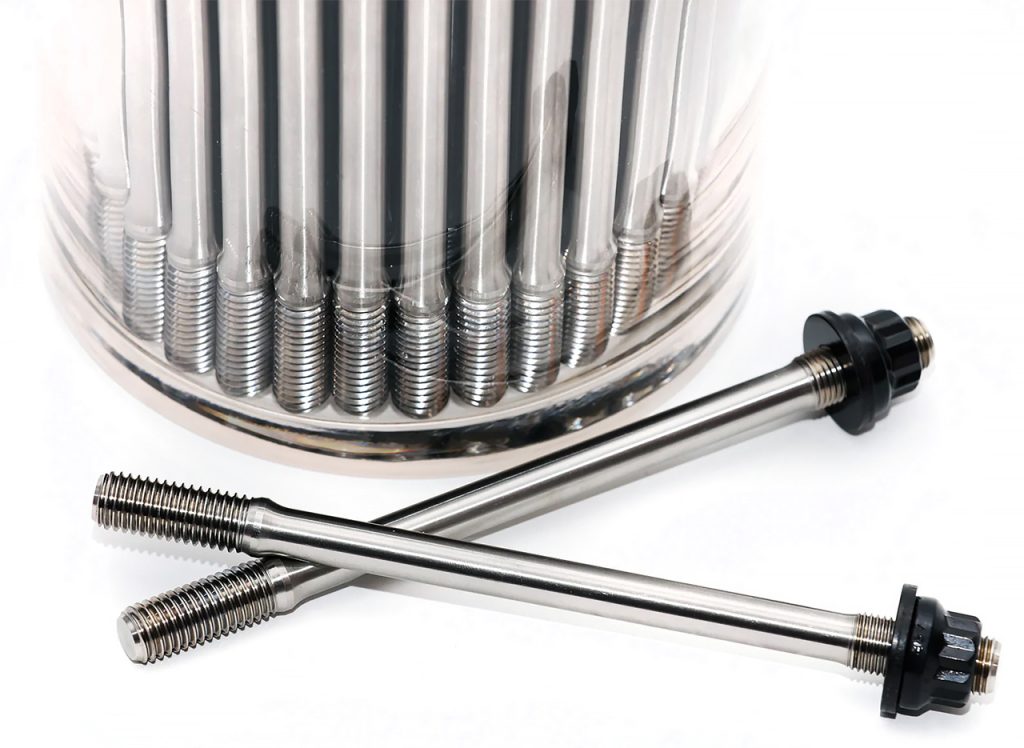 As a compliment to this, we also worked with ARP to make a main stud conversion kit from ARP2000 material. These bolts will not see the same type of load as the head studs.  Yet, they are also considered "overkill" for the application use-case.
To round out the offering, we resurface the engine cylinder decks for proper sealing and vapor hone the block so it will look as good as it will perform.
BLUEPRINTING PROCESS
We take similar measures as McLaren (Ricardo) themselves to ensure every component is within specification before reassembled. For example, we measure each crankshaft main journal with a calibrated micrometer and record the dimensions, we measure each individual main housing bore with a borescope, based on these two measurements, we cross-reference a bearing grade chart that tells us which bearing will result in the desired clearance and the acceptable clearance range.​
​
We also torque our custom rod bolts using two ARP stretch gauges in parallel, not using ft lbs! This is a more accurate measurement and negates any friction losses. We install iron sleeve liners, verify liner height (protrusion) from the deck, ring gaps needed for fuel type, so on and so forth.
We also balance our reciprocating engine components to 1/10th of a gram.  Where McLaren (Ricardo) themselves only balance to within 3 grams or so.  This means our built engines idle and run smoother than factory engines.
This is the difference between "rods and pistons" and a meticulously assembled fully blueprinted engine.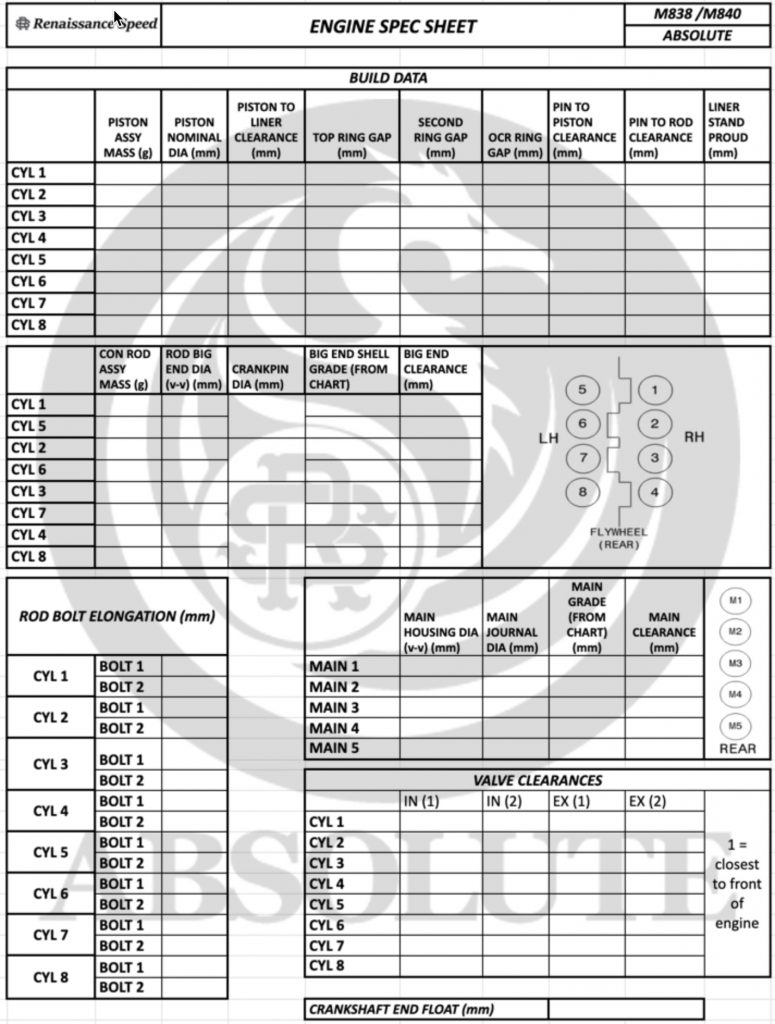 COMPONENT BREAKOUT
Inside your ABSOLUTE – Balanced and Blueprinted Engine Short Block, you will find the following components:
CP Pistons – ABSOLUTE Spec

(Exclusive)

Pauter Connecting Rods (Exclusive)
Mahle Motorsports VP2 Racing Connecting Rod Bearings

(Exclusive)

Mahle Motorsports VP2 Racing Main Bearings (Exclusive)
Mahle Motorsports VP2 Racing Thrust Washers

(Exclusive)

ARP – Custom Age 625+ Head Stud Conversion

(Exclusive)

ARP – 2000 Main Stud Conversion (Exclusive)
ARP – Custom Age 625+ Connecting Rod Bolts
Ductile Iron Cylinder Liners – ABSOLUTE Spec

(Exclusive)

Total Sea

l Piston Rings
Tool Steel Wrist Pins
Stainless Steel Inserts (headstud threads)
Resurfaced Engine Deck
Vapor honed block surface
OPTIONAL: ABSOLUTE Stroker 4.2L Billet Crankshaft

(Exclusive)

OPTIONAL: ABSOLUTE Titanium Connecting Rods

(Exclusive)

IN PARTNERSHIP WITH