Description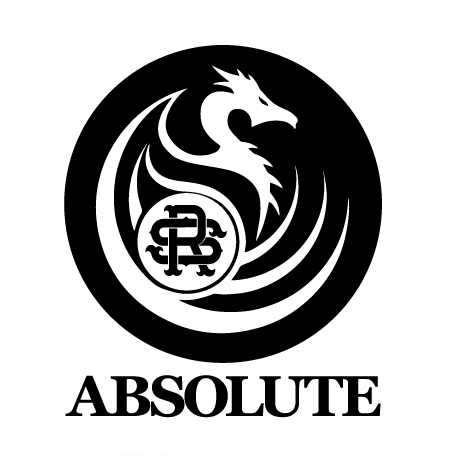 The only complete, turn-key, turbo upgrade solution to make up to 1,000 HP on your stock engine 3.8L McLaren
DEVELOPMENT
The top two questions we receive on a weekly basis are:
"With a turbo upgrade, what is the most power you can make on a stock engine McLaren 12C/650S/675LT/570S/600LT ?"
"What does it take to make 1,000 HP to the wheels ?"
The core issue behind these questions is that it requires a McLaren owner to know what parts are available on the market, what parts are cross-compatible and how much power will it make together.  This is a high bar for most owners, who settle for just downpipes and a tune. When they could unlock a lot more power potential, if they had a trustworthy package offering….
Understanding the issue, we set out to leverage our years of McLaren platform knowledge, to compile an all-encompassing build package to fully maximum the potential of the stock M838.  Starting with a clean whiteboard, we made a wishlist of parts on how we would tackle the issue. The goal was to distill down the 1,000+ HP from our built engine, aftermarket turbo M838, to a customer with a fully stock engine.
For us to be successful, we would have to start with a strong foundation. The stock Bosch coil packs are known to fail at odd times under full load, so we proactively replace these with a fresh set for reliability. With the coil packs addressed, we replaced the OE spark plugs with an Iridium tip NGK spark plug that decreases the spark plug gap for maximum spark dependability under higher cylinder pressures.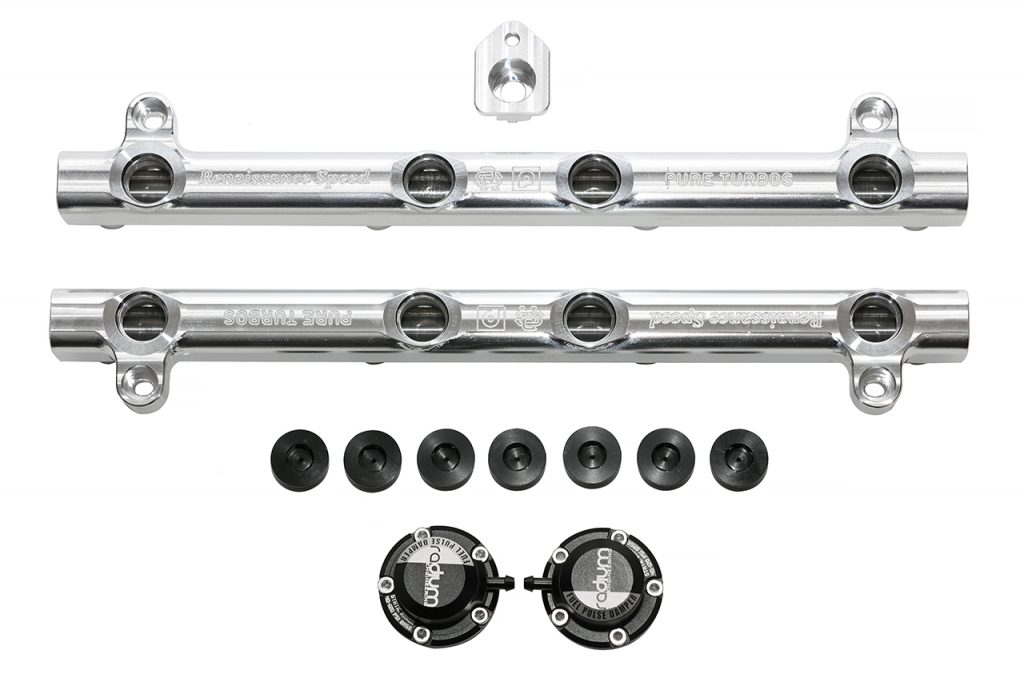 Spark? Check. For fuel, we looked no further than Injector Dynamics with their ID1050X for pump/race gas builds and ID1300X for anyone who is set on running E85.  Since E85 uses 30% more fuel, the DWS1000 upgraded fuel pump is mandatory and is provided as a kit option. Upgrading injectors on the M838T is known to cause an acceleration "stumble" around 2,000 rpms due to the larger pulsing of the injector duty cycle.  Luckily, we have already solved this with PureTurbos with our Billet Fuel Rails w/ dampers.  The fuel dampers are a "shock absorber" of sorts and restores factory drivability.  These fuel rails have an added bonus of future expandability and provides an easy way to swap fuel types before hitting the race track.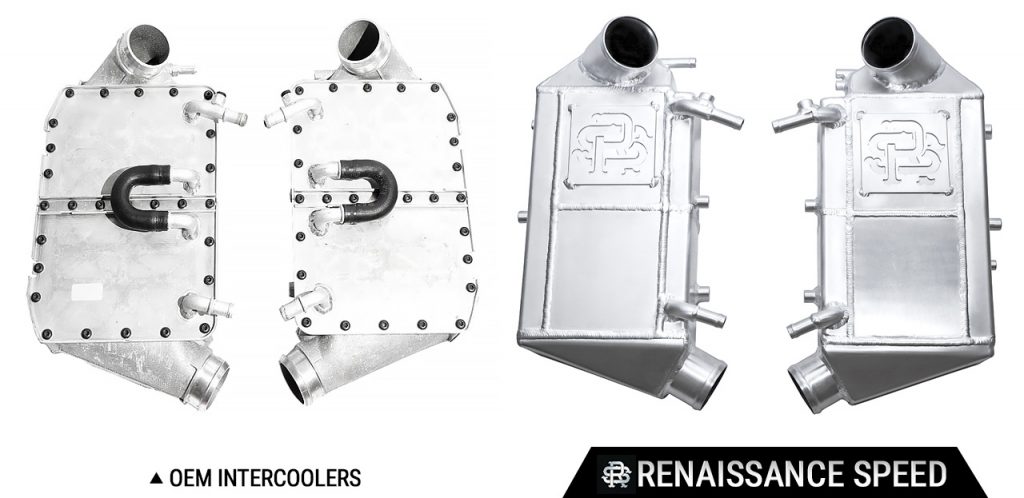 With spark and fuel taken care of, we now had to turn our attention to the air tract. The restrictive paper air filters are replaced with  free-flowing BMC air filters, while trapping harmful particulates from entering the engine. Next, we installed our ABSOLUTE Race Intercoolers which increase spool and add noticeable power to the wheels.  The stock hard rubber boost hoses were tossed aside in favor of 5-Ply Samco Sport boost hoses rated to handle up to 40 psi of constant boost with our upgraded "mega-bold" SS hose clamps. The only screw clamps capable of handling the type of boost we run on our ABSOLUTE builds.  Higher boost also means higher rated MAP sensors were needed, which we took care of with upgraded Bosch units.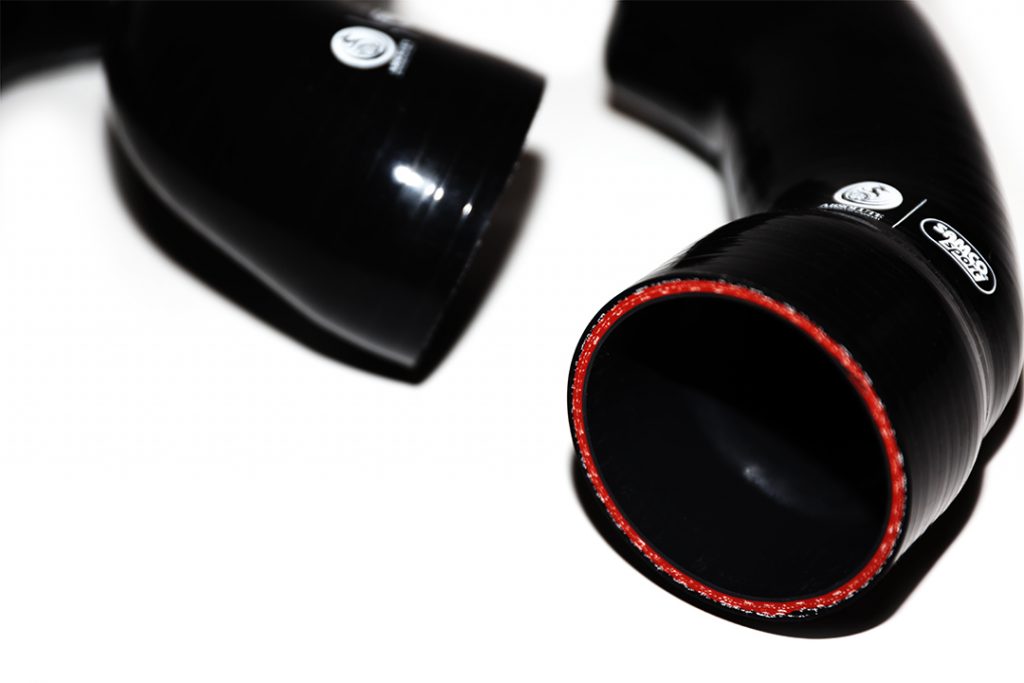 Moving downstream, it was finally time to address the turbochargers. Given our past records with the PureTurbos Pure900 turbo upgrade on the M838, we were sure these hybrid turbos were the best  choice given the OE fit (stock housing, water/oil lines) and broad powerband.  The last two complete builds we did with these turbos, both broke the hybrid turbo HP world record at that time (foreshadowing).  Using these turbos also ensured that a McLaren dealer could install the package since it is no different from 100% stock turbochargers.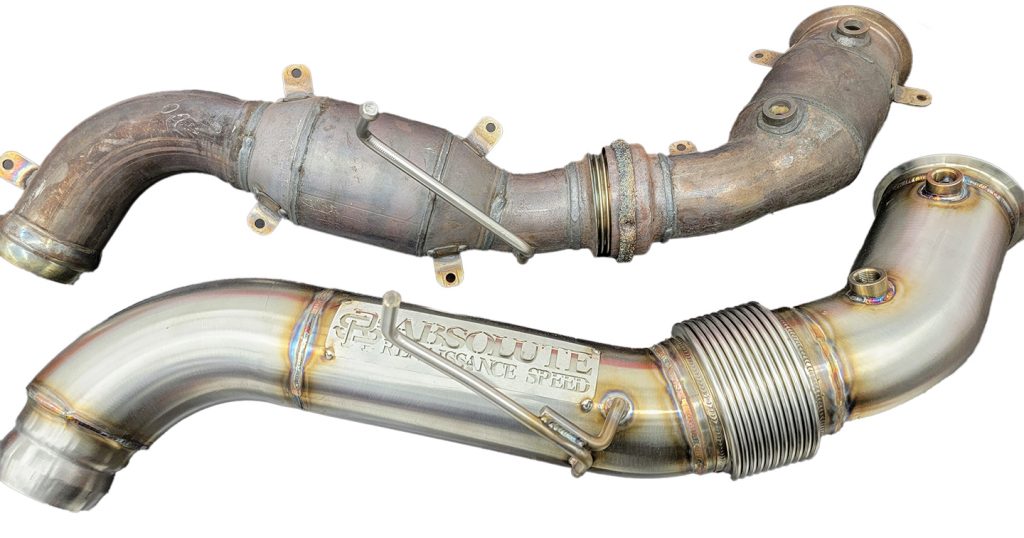 For reliability, we upgraded the motor mounts to handle all of the torque and added our new 4" ABSOLUTE catless downpipes for improved performance, sound and spooling characteristics. These are the only McLaren 4" downpipes available on the market!
Lastly, we reached out to M-Engineering/DynoSpectrum to handle tuning the factory ECU to our specifications.
BUILD PACKAGE BREAKOUT
When the dust settled, this is the combination of parts we pulled together for the ABSOLUTE10 complete build package :
PureTurbos Pure900 – ABSOLUTE10 Spec

Renaissance Speed + PureTurbos Billet Fuel Rails (w/ dampers)

Injector Dynamics ID1050X (Gas) or ID1300 (E85)

ABSOLUTE – Race Intercoolers
ABSOLUTE – Samco Sport Performance Boost Hoses (w/ Mega Hold SS Clamps)
ABSOLUTE – NGK Spark Plugs
ABSOLUTE – Competition 4" Downpipes (Catless)

BMC Air Filters

ABSOLUTE – Upgraded Engine Mounts

Upgraded Bosch MAP sensors

Bosch Coil Packs

ABSOLUTE10 ECU Tuning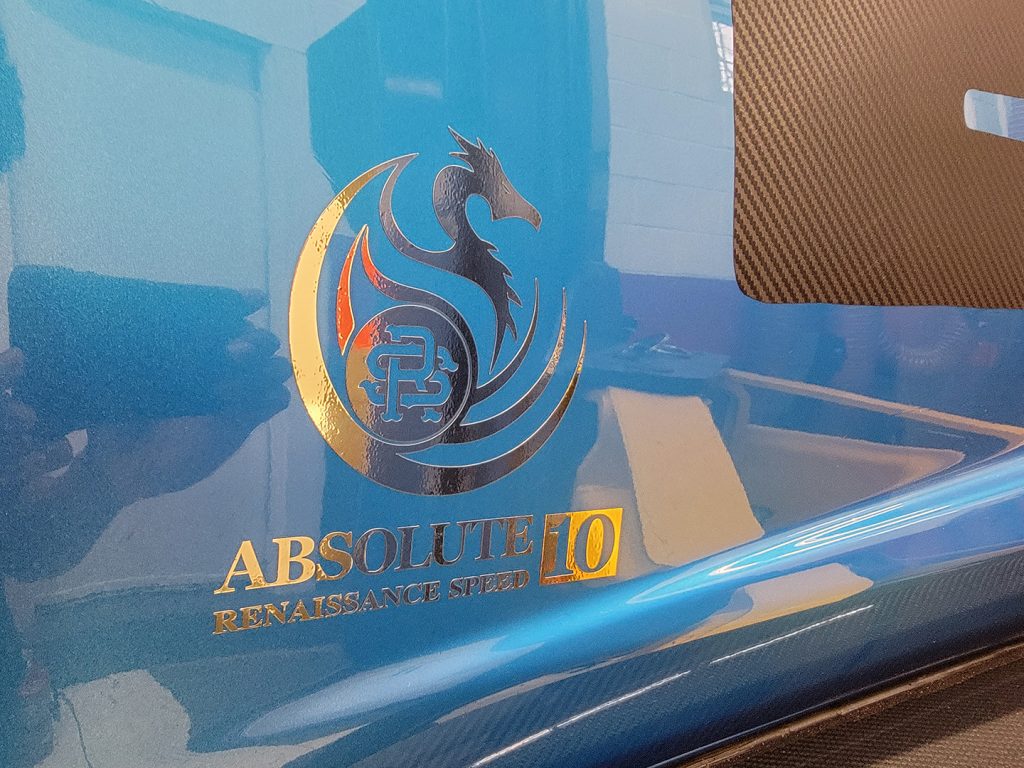 PERFORMANCE + RESULTS
The results speak for themselves:
93 Octane:

869 rwhp @ 22 PSI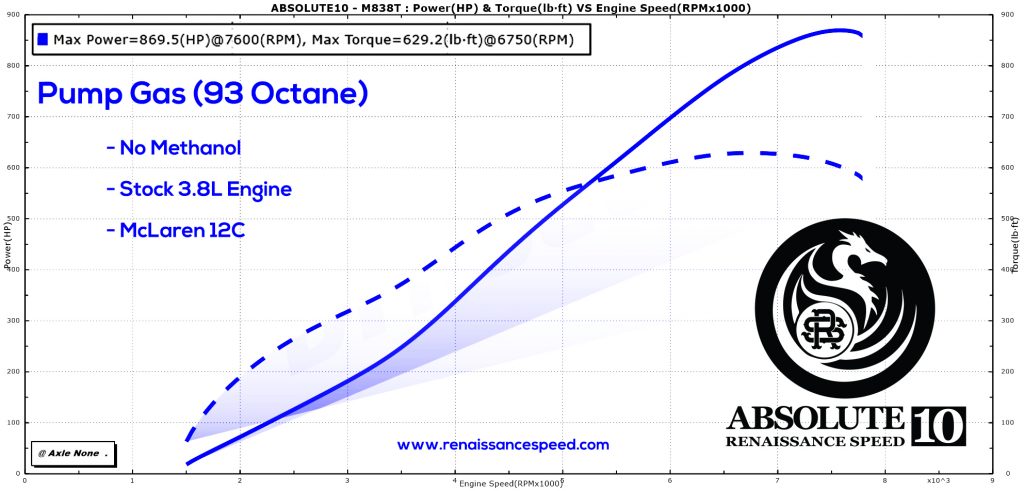 100+ Octane

: 1003 rwhp @25 PSI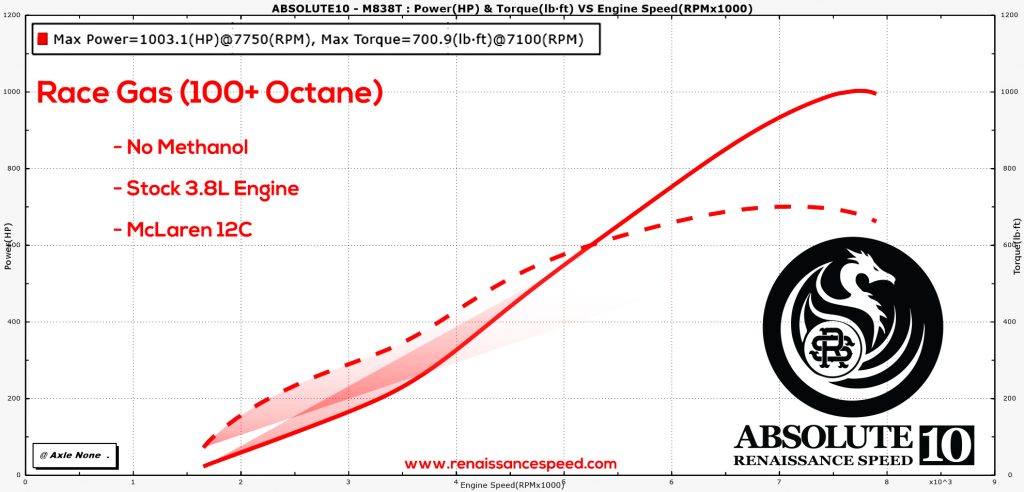 We are pleased to announce that this set a NEW WORLD RECORD for hybrid turbos on the 3.8L McLaren and only the second 3.8L McLaren to be verified at over 1,000 HP to the wheels, other than our shop car.
The only turn-key 1,000 HP kit available for the M838T!
FINAL KIT
To round out the official build package,  and add resale value,  we created the final polish (in addition to the parts breakout):
ABSOLUTE10 –  Certificate of Authenticity
ABSOLUTE10 – Graphics Package
ABSOLUTE10  – Gold Build Plate with Designated Build Number (Front Boot)
ABSOLUTE10 – Gold Decorative Keychain w/ Stamped Build Number
ABSOLUTE VIP – Priority Customer Support